Träning/Yoga på jobbet ~ Yogafitforlife@WORK
Vill du hitta på något kul med arbetskamraterna?
Behöver du en team-skapande aktivitet till nästa konferens el kick-off?
Finns det behov av att reducera stressnivån på din arbetsplats?
 
JOGGARYOGA är ett exempel på vad Yogafitforlife erbjuder- en perfekt aktivitet där vi vill väcka träningsglädjen till liv. JoggarYoga är ett roligt, uppfriskande & hälsosamt kombo-pass som ger en stressreducerande effekt för hela gänget! Vi kombinerar utomhus- med inomhusträning (eller enbart ute om vädret tillåter) och får på så vis njuta av frisk luft samtidigt som vi rör på oss. Vi inleder med löp-/ konditionsträning, inkl roliga intervallövningar, en del löpteknik m.m, och avslutar med välgörande yoga, en kombination som visat sig vara mycket populär och givande. Passen kan självklart anpassas efter era behov, miljöer och önskemål.
För mer info: cathrin@yogafitforlife.se
~~~~~~~~
Looking for something fun to do with your co-workers?
Need a team-boosting activity for your upcoming conference or kick-off?
Is there a need for a reduced stress level at your work place? 
JOGGARYOGA might be what you´re looking for and is one of the popular activities that Yogafitforlife offers. JoggarYoga is a healthy, fun and refreshing combo-activity that gives a stress reducing effect for the whole group/team! As we combine outdoor- with indoor training (or if you prefer and the weather allows, we stay outdoor all the way), we get to enjoy some fresh air at the same time as we get our exercise in. Starting with some cardio workout, including run techniques, short, fun intervals etc, we round it all off with smooth yoga, a combination which has proved to be quite popular and beneficial. Naturally the activities can be adapted to your specific needs and environments.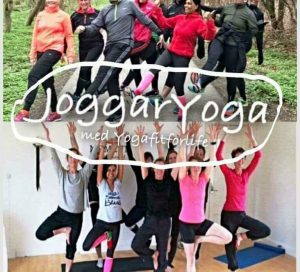 More info: cathrin@yogafitforlife.se
Paketpris: 120min JoggarYoga (max 20 pers) 4500kr exkl moms